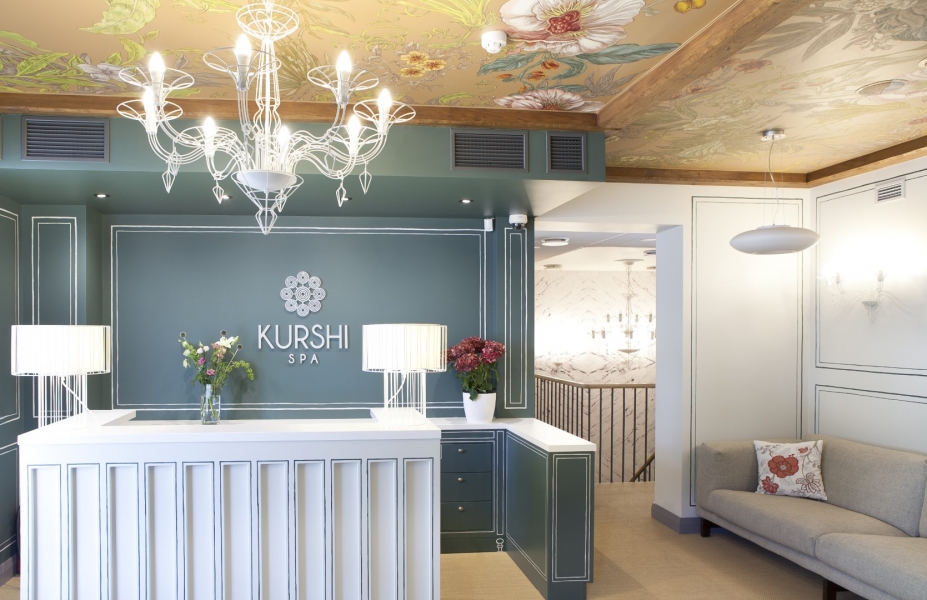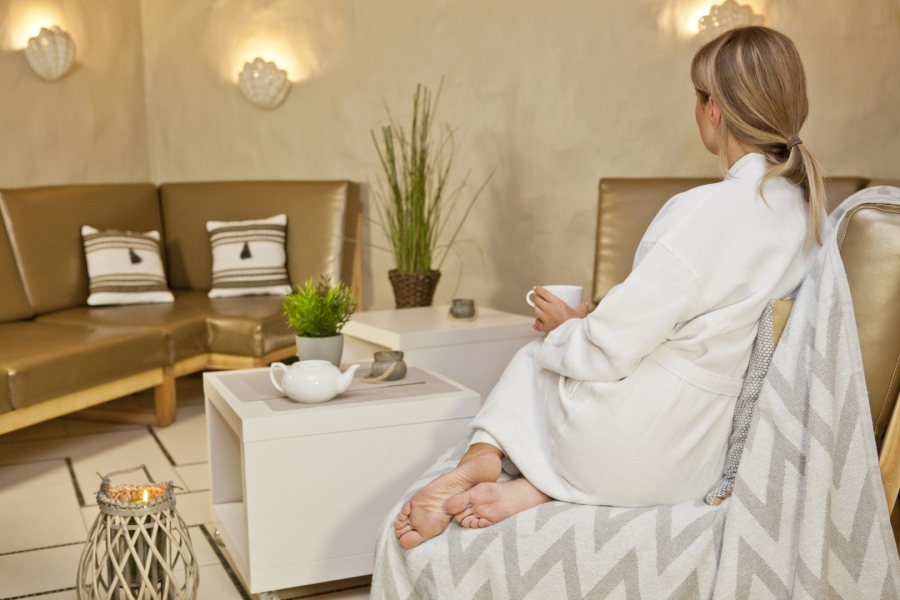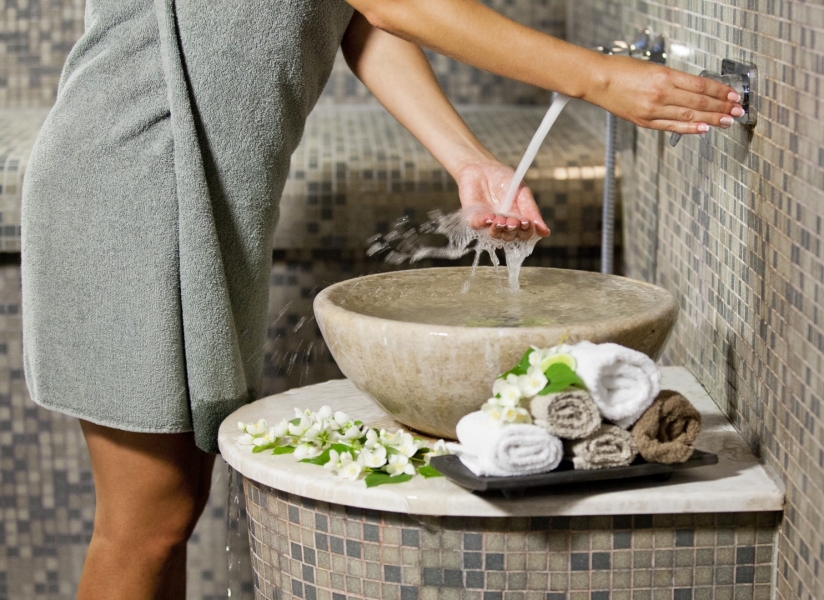 BATH (SAUNA) RITUALS
SPA TREATMENTS & RITUALS
Including sauna and Turkish steam bath
BATH COMPLEX  VISIT – Turkish steam bath and dry sauna visit, relaxation with a cup of tea
60 min / 20.00 €

*SELF SCRUBBING – 'KURSHI ECO-scrub' (150 g) based on sugar and essential oils, for unassisted skin cleansing in steam bath

*Self made treatment additionally to sauna visit

60 min / 6.00 €

KURSHI ECO-PEELING – body scrubbing treatment as a procedure in hammam

There is additional 30 min. bath complex visit included before the treatment

40 min / 45.00 €

KESE PEELING – skin cleansing with 'Kese' glove in hammam

There is additional 30 min. bath complex visit included before the treatment

40 min / 45.00 €

MUD WRAPPING – mud body wrap with Latvian lake sapropel in hammam

There is additional 30 min. bath complex visit included before the treatment

40 min / 45.00 €
SPA-WHISKING – warming up in Russian tradition steam bath, 'whisking' treatment with oak and birch twigs (once or twice), recreation with a cup of tea
70 min / 60.00 €
WHISKING TREATMENT "EUCALYPTUS" – aromatic whisking with eucalyptus brooms with massage elements, recreation with a cup of tea
70 min / 60.00 €
BATH RITUAL "SOUNDS OF LAKE" – skin cleansing with 'KURSHI' eco peeling on salt or sugar base and mud wrapping for local zones with sapropel from Latvian lakes, recreation with a cup of tea
90 min / 90.00 €
TURKISH HAMMAM – warming up in hammam, gentle skin cleansing with 'Kessa' glove or with 'KURSHI ECO-scrub' according to the client`s wish, soft body massage with foam, head massage – hair wash, contrast shower, recreation with a cup of tea
100 min / 110.00 €
ETNO – ethnic bath ritual in Russian tradition steam bath – includes warming up, relaxation with herbal bath for feet, skin cleansing with 'Kese' glove or 'KURSHI eco-scrub' in hammam without steam, 'aroma-whisking' with oak twigs (once or twice) in sauna, recreation with a cup of tea
100 min / 110.00 €
ROYAL WHISKING – 'whisking' using bamboo and oak twigs  in Russian tradition steam bath – includes: warming up, procedure with bamboo twigs,  honey and citrus juice body mask in the sauna,  whisking with oak twigs (once or twice), recreation with a cup of tea
120 min / 130.00 €
BATH COMPLEX RENT
60 min / 150.00 €
*All prices are per 1 person
Pre booking is required. Please contact KURSHI SPA administrator by phone +371 27859322 or e-mail: spa@kurshihotel.lv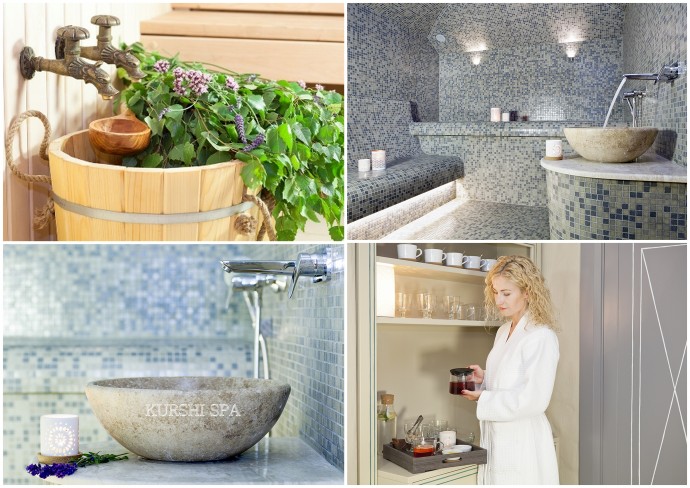 Information & etiquette
Dear guests!
KURSHI SPA bath area is not big but very cosy and comfortable! There are no swimming pool or jacuzzi, but it contains relaxation zone and two public saunas: turkish and finnish, available for up to 10-15 persons at a time.
The saunas are also used to perform individual SPA-treatments listed below (Russian traditional steam bath 'whisking', turkish hammam treatment etc). In this case, there is no option for public use. But we always try to arrange the best comfort for Your rest, that is why we kindly ask You to book the time of your visit in advance.
KURSHI SPA provides You with the bath robe, towel and rubber slippers, but You may bring Your own slippers if You will feel more comfortable. You may also bring Your own small size robes and slippers for Your children, as well.
It is permitted to visit  SPA bath area only in swimming suits! In case You don't have Your swimming suit, the administrator will issue the bedsheet for extra charge.
The saunas are located on the ground floor, close to massage rooms where spa-treatments are provided. We kindly ask You to respect other customers and keep quiet atmosphere while resting in saunas and relaxation zone (please put Your cell phones on the quiet mode and leave them in the locker, speak quiet, have the oversight of Your kids). When booking the time of visit, please inform the administrator if You are planning to come in a group or with more than one kid. Thank You for understanding!
You are welcome to drink herbal tea or still water when resting at SPA bath area! It is forbidden to bring and use any alcoholic drinks

We appreciate Your attention and wish You a pleasant stay in our SPA!